Taylor Swift, Queen, AC/DC
Top 40 Most Streamed Hard Rock/Metal/Punk Artists This Week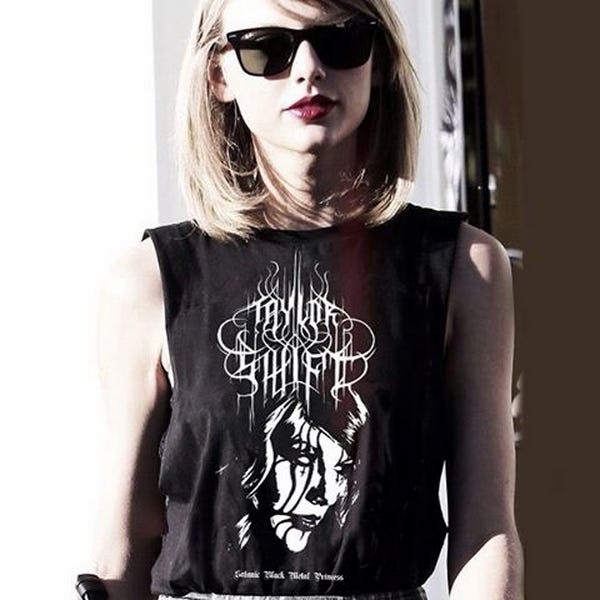 Taylor Swift sold 615,000 copies of her new album this week. Those are Pure Sales, too, not total activity. This week's paid subscriber email includes first-week sales debuts for Acacia Strain, Neck Deep, Haken, Omar Rodriguez-Lopez, and more. Plus updated Pure Sales figures on recent albums from Bush, Dance Gavin Dance, Lamb Of God, and dozens more. Why not upgrade your subscription? It's only a dollar per week.
The Black Album moved another 1900 units this week for a domestic total of 11.1M. Today is the birthday of one James Hetfield, so seems like a good time to listen to Speak N' Destroy, my podcast about Metallica. Recent guests include members of Bad Wolves, (ex) Five Finger Death Punch, Zao, Tetrarch, Breaking Benjamin, and more.
---
Top 40 Most Streamed Artists 
Hard Rock/Metal/Punk, Etc.
July 24, 2020 - July 30, 2020 
By Total Songs Streamed 
Queen 22M "Bohemian Rhapsody" 

Panic! At The Disco 19M "High Hopes" 

twenty one pilots 18.9M "Level of Concern" 

AC/DC 18.9M "Thunderstruck" 

Linkin Park 16.7M "In the End" 

Red Hot Chili Peppers 16.1M "Under the Bridge" 

Five Finger Death Punch 16M "Blue on Black" 

Metallica 15.4M "Enter Sandman" 

Led Zeppelin 15.2M "Stairway to Heaven" 

Fall Out Boy 13.4M "Sugar, We're Goin Down" 

Green Day 12.8M "Basket Case" 

5 Seconds Of Summer 12.6M "Youngblood" 

Nirvana 11.5M "Smells Like Teen Spirit" 

Shinedown 11.1M "Simple Man" 

Three Days Grace 10.6M "(I Hate) Everything About You" 

Blink-182 10.6M "All the Small Things" 

Guns N' Roses 10.5M "Sweet Child O' Mine" 

Disturbed 9.7M "The Sound of Silence" 

Aerosmith 9.5M "Dream On" 

Breaking Benjamin 9M "The Diary of Jane" 

Slipknot 8.9M "Duality" 

Weezer 8.7M "Island in the Sun" 

Pearl Jam 8.4M "Black" 

My Chemical Romance 8.3M "Welcome to the Black Parade" 

Van Halen 8.2M "Jump" 

Paramore 7.9M "Misery Business" 

System Of A Down 7.6M "Chop Suey!" 

Bon Jovi 7.5M "Livin' On a Prayer" 

Foo Fighters 7.4M "Everlong" 

Tool 7.4M "Sober" 

Skillet 7.2M "Monster" 

Nickelback 7.2M "How You Remind Me" 

Korn 7.1M "Coming Undone" 

Avenged Sevenfold 7.1M "Hail to the King" 

Def Leppard 7M "Pour Some Sugar On Me" 

Godsmack 6.4M "Bulletproof" 

Alice In Chains 6.4M "Rooster" 

Seether 6.2M "Fake It" 

3 Doors Down 5.9M "Kryptonite" 

Falling In Reverse 5.7M "Popular Monster" 

(Source: Rolling Stone.)
---
UMG Revenues Up 3.5% Halfway Through 2020, Despite Pandemic Hit. Universal Music Group's revenues for the first half of 2020 were up 3.5%, to €3.46 billion ($4.09 billion), even as its quarterly revenue dipped slightly (down 4.7%) from Q1 2020 amid the coronavirus pandemic.  — Billboard
Dee Snider, Sebastian Bach, Mike Portnoy, Keith Buckley, Alex Skolnick, Charlie Benante React To Spotify CEO: "What A Greedy Bitch." They are among the musicians who have taken issue with Spotify CEO Daniel Ek's suggestion that artists need to be more prolific in the streaming age. — Blabbermouth
Apple Services Business Grows Double Digits, Helps Boost Quarterly Revenue. The segment that encompasses Apple Music and Apple TV+ had net sales of $13.2 billion during the period. — The Hollywood Reporter
Amazon, Apple, Facebook Show Dominant Results, Grip on Society. Tech companies reap billions, surprising investors. — Wall Street Journal
---
Follow me on Twitter & Instagram. Look at my website.
---