All-Time Biggest Hard Rock, Metal, Punk(ish) Artists by RIAA Certified Units
Plus: The Biggest Selling Albums

The All-Time Biggest Selling 
Hard Rock / Metal / Punk Adjacent 
Artists (U.S.) by RIAA Certified Units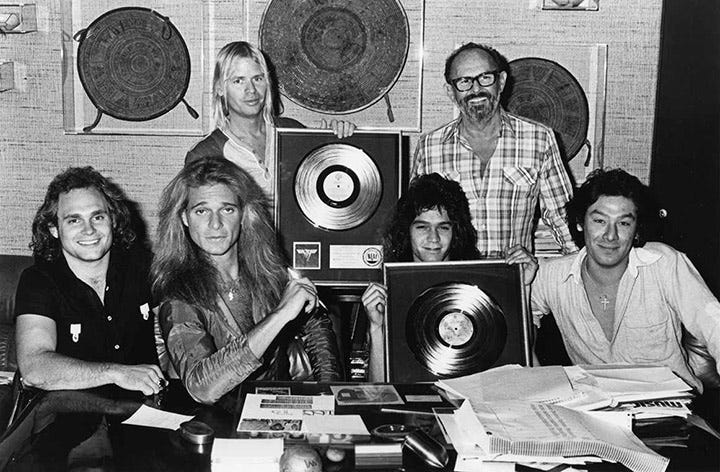 ---
This list does not represent total records sold; these are total album units certified by the RIAA. For example, Pierce The Veil has sold more than 500k across their catalog, but have only one album that's been certified gold by the RIAA for sales of 500k units, so therefore, they appear on the 500k list below. AFI has two albums that were certified platinum for sales of 1 million each, so they are listed under 2M units. Also note: Avenged Sevenfold is overdue for a couple of new platinum certifications, so they should be a couple of slots higher on this list (and probably will be soon).
RIAA certifications breakdown like this: 500,000 (GOLD), 1 million (PLATINUM), 10 million (Diamond). Digital download purchases were added to physical album sales in the early 2000s; a decade later, they added a formula to include on-demand streams.
---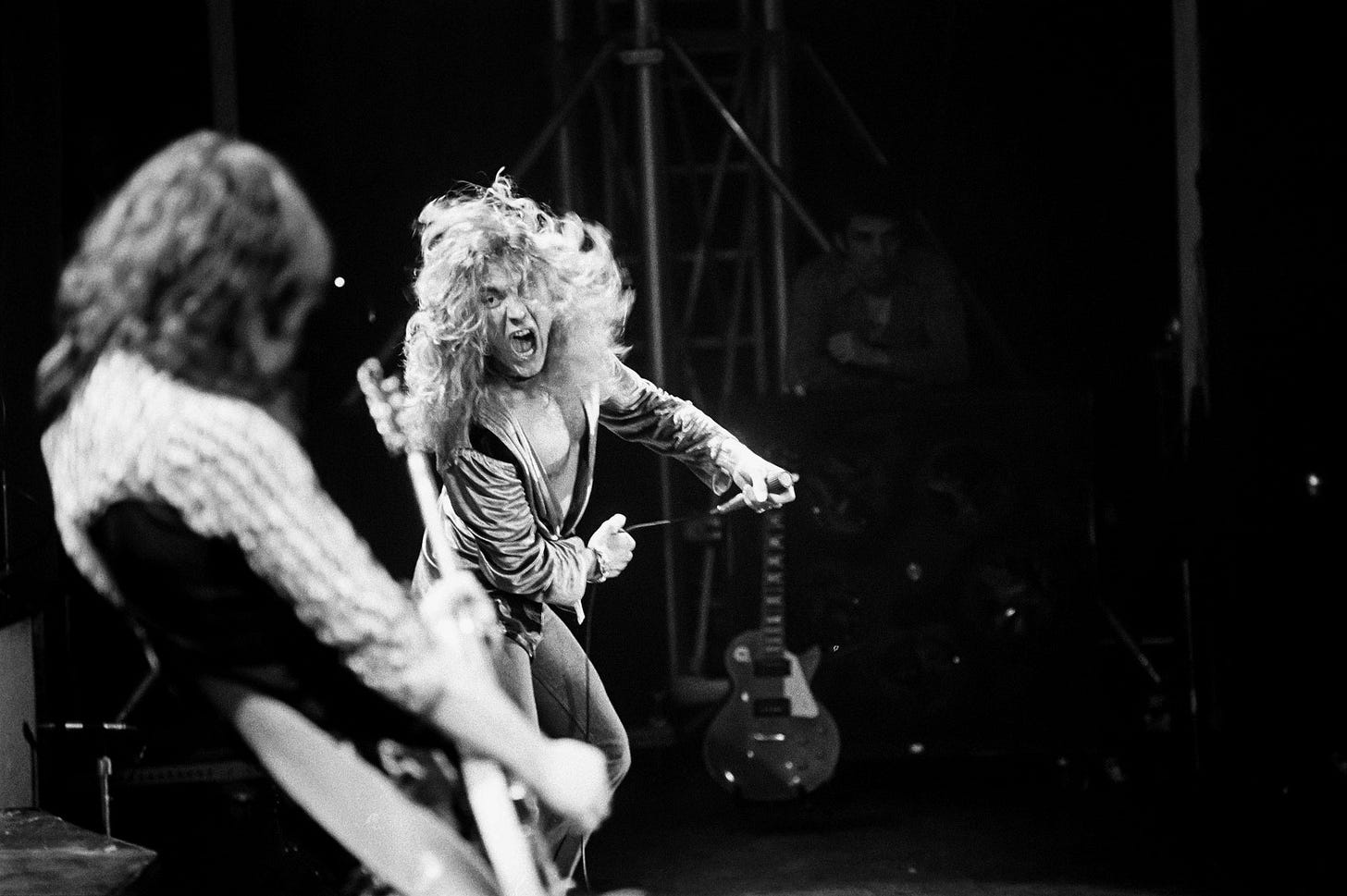 Led Zeppelin, Uniondale, New York, 1975 (Photo: Neal Preston)
Led Zeppelin (111.5 Million)
AC/DC & Pink Floyd (75M)
Aerosmith (66.5M)
Metallica (63M)
Van Halen (56.5M)
Guns N' Roses (44.5M)
Def Leppard (35.5M)
Queen & Creed (35M)
Bon Jovi (34.5M)
Pearl Jam (31.5M)
Ozzy Osbourne (29.5M)
Nirvana (28M)
Linkin Park (27.5M)
Mötley Crüe
Red Hot Chili Peppers
& Rush (25M)
Green Day & Nickelback (24M)
Kiss & Meat Loaf (21M)
Smashing Pumpkins (19.7M)
Stone Temple Pilots (17.5M)
Korn & Limp Bizkit (16.5M)
Black Sabbath & No Doubt (15M)
The Cranberries
The Offspring
& Poison (14.5M)

Ted Nugent (14M)
3 Doors Down (13M)
Alice In Chains & Whitesnake (12.5M)
Live (12M)
Disturbed (11.5M)
Bush & Scorpions (10.5M)
Blink-182 & Nine Inch Nails (10M)
Evanescence, Judas Priest & Tool (9.5M)
Rage Against The Machine
Soundgarden
& Staind (9M)
Godsmack
Panic! At The Disco
The Cure
& Trans-Siberian Orchestra (8.5M)
Alice Cooper
Daughtry
& Ratt (8M)
Deep Purple (7.5M)
Foo Fighters
Pantera
Quiet Riot
Skid Row
System Of A Down
Cinderella
& twenty one pilots (7M)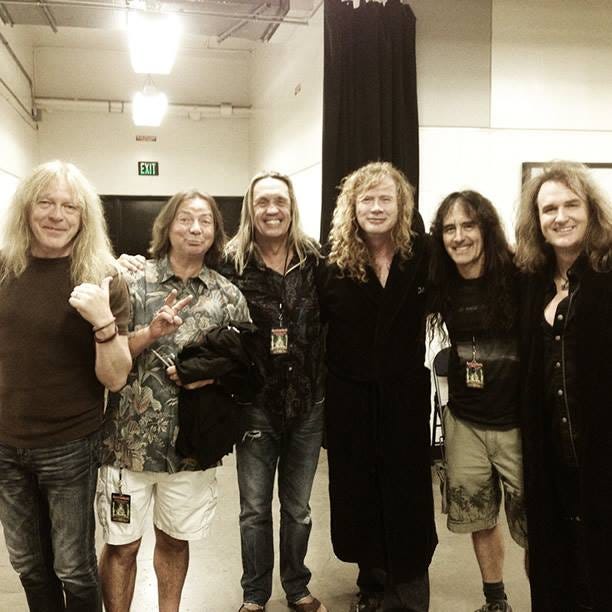 Iron Maiden
Megadeth
My Chemical Romance
Robert Plant
Tesla
& Weezer (6.5M)
Fall Out Boy
Incubus
Queensrÿche
Slipknot
& Three Days Grace (6M)
Rob Zombie (5.5M)
Five Finger Death Punch
Shinedown
& The Clash (5M)
Audioslave
Candlebox
Good Charlotte
Marilyn Manson
Molly Hatchet
P.O.D.
Papa Roach
& Paramore (4.5M)
Steppenwolf
Warrant
White Zombie
Blind Melon
Blue Öyster Cult
Breaking Benjamin
Europe
Everclear
Great White
Jane's Addiction
Skillet
& Twisted Sister (4M) 
Chevelle
David Lee Roth 
Deftones 
Dokken
Hinder
Hoobastank
Muse
Presidents Of The United States Of America
Puddle Of Mudd
Sammy Hagar
& The All-American Rejects (3.5M)
Avenged Sevenfold
Chumbawamba
Dio
Silverchair
Simple Plan
Switchfoot
& Triumph (3M)
A Perfect Circle
Anthrax
Cake
Damn Yankees
Firehouse
Go Go's
Joan Jett & The Blackhearts
Joe Satriani
Living Color
Primus
Seether
Slaughter
The Cult
The Used
The White Stripes
& White Lion (2.5M)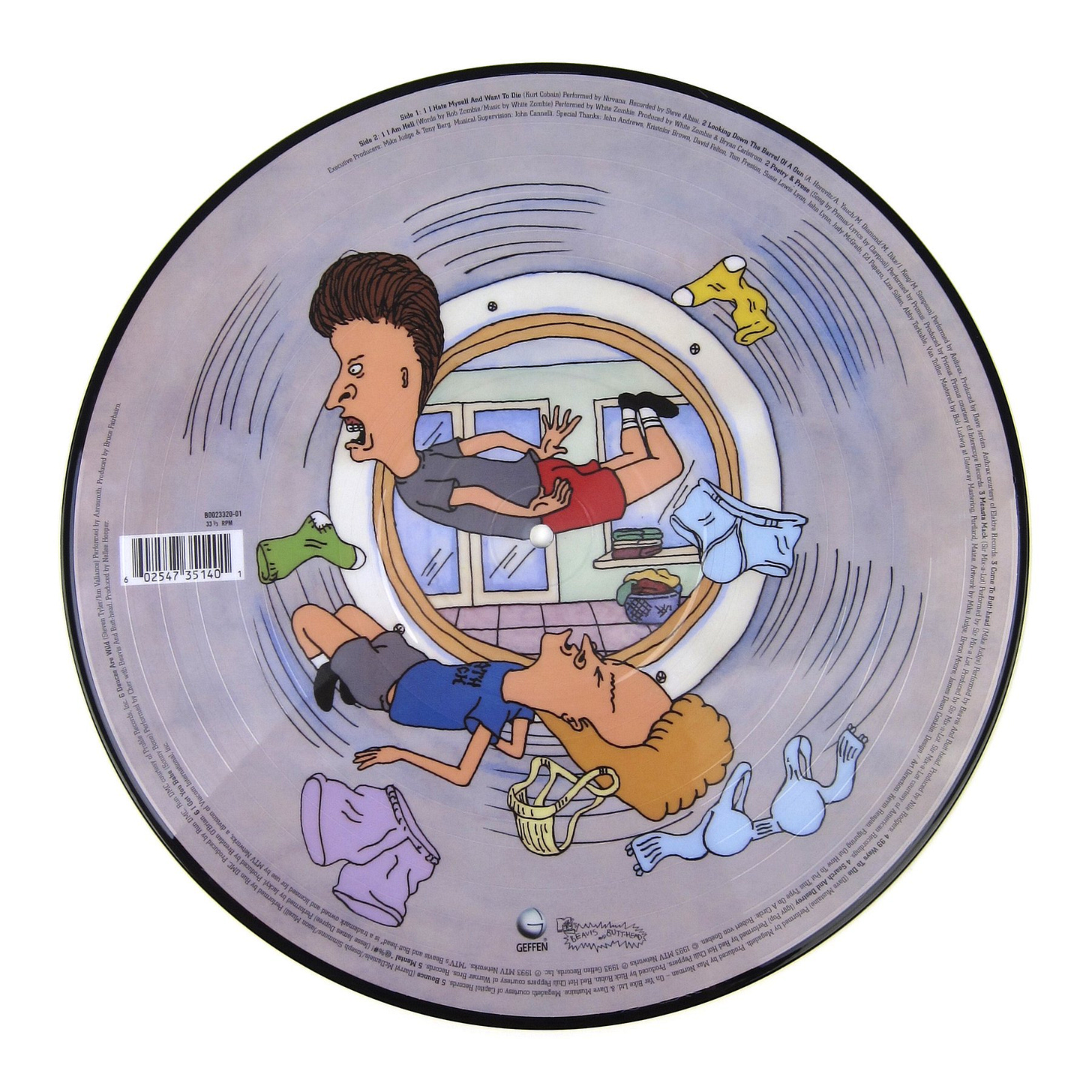 AFI
Beavis & Butthead
Death Cab For Cutie
Filter
Hole
Jon Bon Jovi
Ministry
Nelson
New Found Glory
Ozzy Osbourne & Randy Rhoads
Skrillex
Slayer
Stryper
Sum 41
Ugly Kid Joe
Uriah Heep
Velvet Revolver
Vertical Horizon
& Winger (2M)
30 Seconds To Mars
Buckcherry
Dashboard Confessional
Faith No More
Hollywood Undead
Jackyl
Jimmy Eat World
Jimmy Page & Robert Plant
Mudvayne
Orgy
Pixies
Rancid
Relient K
Rise Against
Saliva
Sevendust
Static-X
Stone Sour
Taking Back Sunday
The Smiths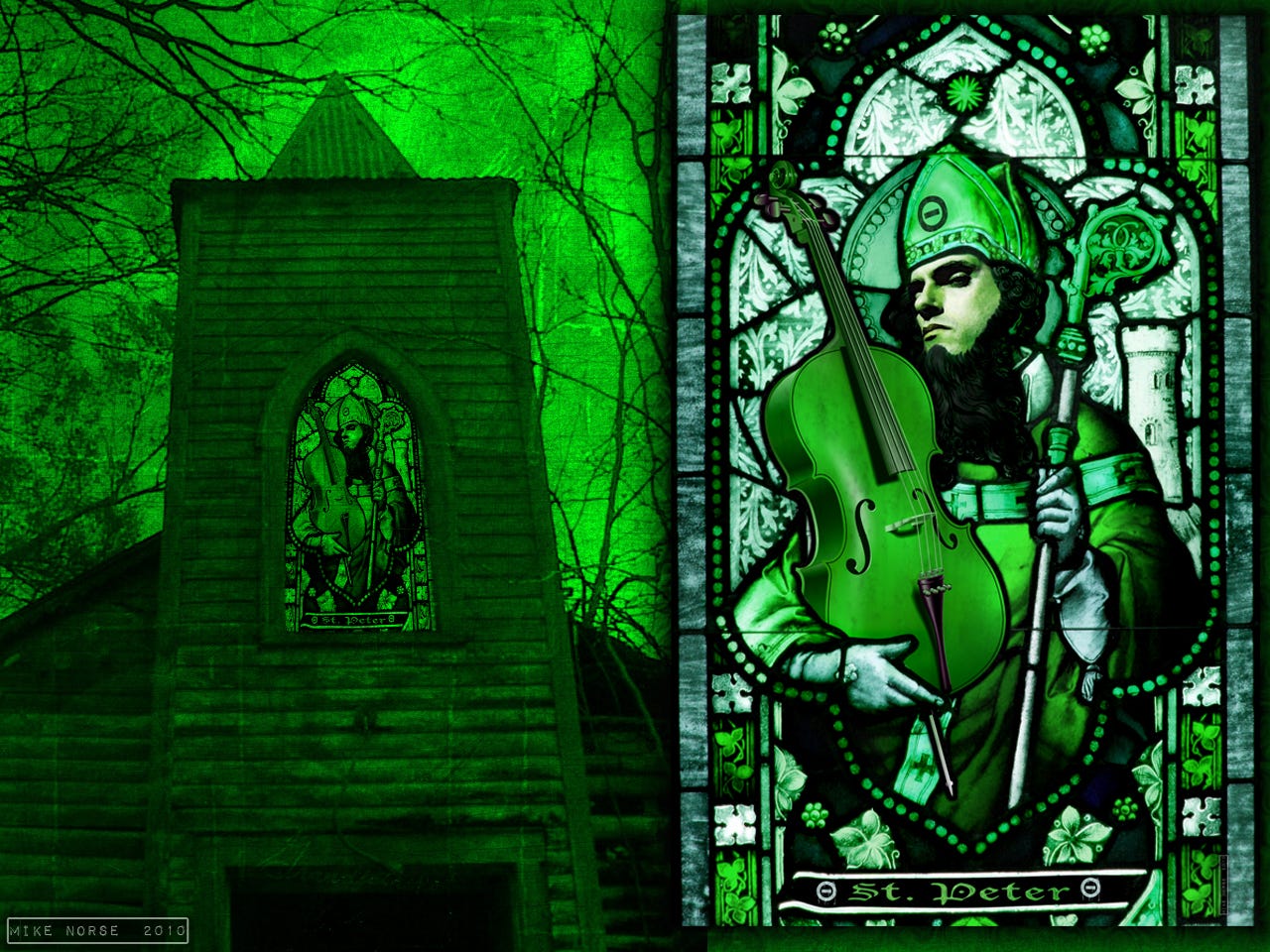 Type O Negative
Violent Femmes
& Yellowcard (1.5M)
A Day To Remember
Ace Frehley
Alien Ant Farm
All Time Low
Blue October
Bring Me The Horizon
Coheed & Cambria
Cold
Coverdale Page
Crazy Town
Days Of The New
Drowning Pool
Finger Eleven
Flyleaf
Gene Simmons
Halestorm
Hawthorne Heights
Interpol
Jet
Killswitch Engage
Kix
Krokus
L.A. Guns
Lamb Of God
Lit
Lita Ford
Mighty Mighty Bosstones
Montrose
Morrissey
Mr. Big
Nazareth
New Radicals
Paul Stanley
Peter Criss
Powerman 5000
Rammstein
Ramones
Scott Stapp
Sepultura
Sex Pistols
Sixpence None The Richer
Social Distortion
Stabbing Westward
Temple Of The Dog
The Lemonheads
The Red Jumpsuit Apparatus
The Verve Pipe
Theory Of A Dead Man
Trapt (LOL)
Underoath
Volbeat
& W.A.S.P. (1M) 
10 Years
5 Seconds Of Summer
Accept
Adema
Alter Bridge
Angels & Airwaves
Atreyu
Autograph
Bad Religion
Belly
Body Count
Bowling For Soup
Brand New
Britny Fox
Bullet For My Valentine
Bulletboys
Butthole Surfers
Chickenfoot
Coal Chamber
Dangerous Toys
Danzig
Dead Kennedys
Dishwalla 
DragonForce
Dream Theater
Dropkick Murphys
Echosmith
Falling In Reverse
Faster Pussycat
Fear Factory
Flogging Molly
Green Jelly
Greta Van Fleet
GTR
H.I.M.
Helmet
In This Moment
Jimmy Page
King Crimson
Kingdom Come
Kittie
Kutless
Lostprophets
Mad Season
Mars Volta
Mayday Parade
Meat Puppets
Methods Of Mayhem
Monster Magnet
MxPx
NOFX
Operation Ivy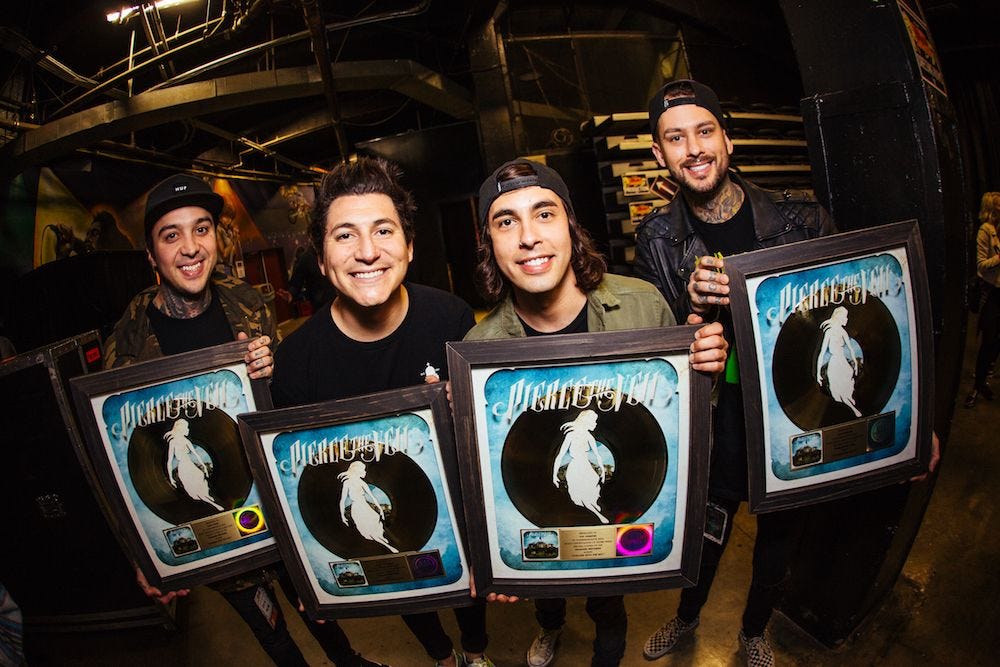 Pierce The Veil
Porno For Pyros 
Portugal. The Man
Queens Of The Stone Age
Red
Saigon Kick
Saving Abel
Senses Fail
Soulfly
Steelheart
Steve Vai
Story Of The Year
Suicidal Tendencies 
Tantric
The Ataris
The Darkness
The Firm
The Misfits
The Vines
Thin Lizzy
Trixter
Veruca Salt
Vixen
Wolfmother
Yeah Yeah Yeahs
& Zebra (500k) 
---
The All-Time Biggest Selling 
Hard Rock / Metal / Punk Adjacent 
Albums (U.S.) - Source: RIAA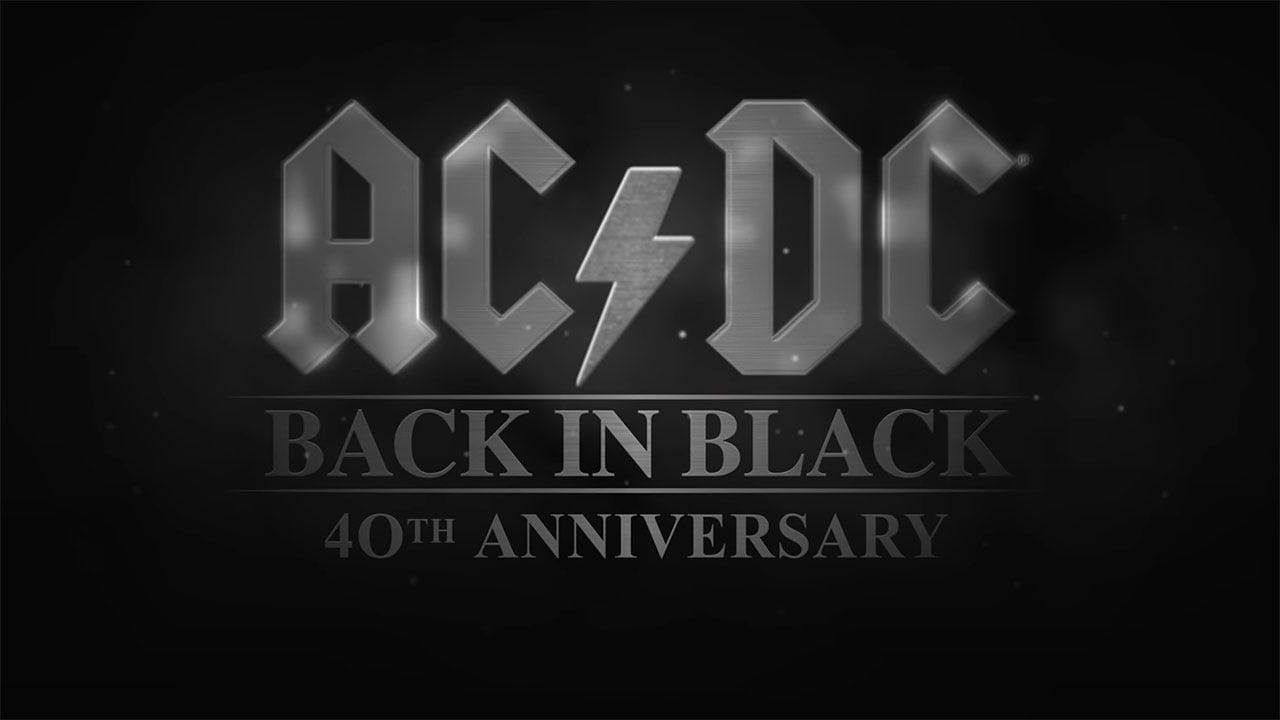 AC/DC, Back in Black (25M)
Led Zeppelin, Led Zeppelin IV 
& Pink Floyd, The Wall (23M)
Guns N' Roses, Appetite for Destruction (18M)
Led Zeppelin, Physical Graffiti 
& Metallica, Metallica (16M)

Pink Floyd, Dark Side of the Moon (15M)
Meat Loaf, Bat Out of Hell (14M)
Pearl Jam, Ten (13M)

Bon Jovi, Slippery When Wet 
Def Leppard, Hysteria 
& Led Zeppelin, Led Zeppelin II (12M)

Aerosmith, Aerosmith's Greatest Hits 
Creed, Human Clay 
Led Zeppelin, Houses of the Holy 
& Linkin Park, Hybrid Theory (11M)

Def Leppard, Pyromania 
Green Day, Dookie 
Led Zeppelin, Led Zeppelin 
Nickelback, All the Right Reasons 
Nirvana, Nevermind 
No Doubt, Tragic Kingdom 
Smashing Pumpkins, Mellon Collie…
Van Halen, Van Halen & 1984 (10M)
---
Follow me on Twitter & Instagram. Look at my website. Subscribe to my podcasts.
---